Search Engine Optimization
---
Search Engines are now the most commonly used source for people to quickly find information, products and services they are researching.  First page search results are key for new customers to find your business online.  It was much easier to show up on the top search results a few years ago than it is today. High search engine rankings have become very competitive and more than likely will not happen without the help of SEO.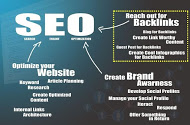 Search Engine Optimization (SEO) is a process performed directly to the code and the content of your website that will help your site rank high in search engines. More than 80% of users will never look past the first page of search results.  Using effective "Keyword Phrases" are essential to generating quality leads and new potential customers.  The geographic radius where a company does their business also needs special consideration.  More than likely a plumber in Denver is not interested in receiving an inquiry to fix a drain in California.  Your website can be dialed in both for keyword search terms as well as specific cities and regions.
Many agencies, design firms, marketing companies and web freelancers say they can do SEO, but the results can be radically different with cost and performance.  Additionally, a firm using old SEO techniques can be more detrimental to your website than a help.  Or worse, by using bad practices, even have your business website kicked off Google.
Your business is as important to Gold Standard Creative as our own.  We have a team of 10 dedicated 100% to SEO who live, eat and breathe Google every day. We provide hands on attention to your website with routine maintenance and unlimited optimization.  We also offer month to month performance based guarantees.  Contact us for a free website analysis and proposal and learn more about how to make your website begin ranking high in the search engines.
Make Gold Standard Creative Your DIGITAL Marketing Agency!