Web Design
---
Web design is a process of conceptualizing, planning, and building a collection of electronic files that determine the layout, colors, text styles, structure, graphics, images, and use of interactive features that deliver pages to your site visitors.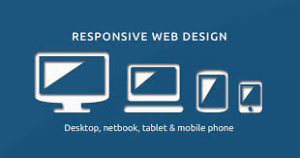 With more people using their mobile phones to look at the world wide web, it has turned out to be more and more important to make a web site that performs across several screen sizes.
After booming onto the field in a fire of wonder in early 2012, responsive web design (or RWD) is now strongly established as the best way to make a web page that mobile guests will love, and has become a central feature of the contemporary web style scenery.
In simpler terms, responsive design indicates that a website's webpages reformat themselves based on which system they are being shown on, guaranteeing that whether the material is considered on a cellphone, tablet, or pc, the web page will remain user-friendly. Why has this created such surf in the web industry? This is extremely different from past mobile-friendly alternatives of developing a separate website just for a mobile user and then having your main one for PC / MAC users.
When it comes to search engine optimization, can a mobile-friendly website increase the chances of a web page being successful in the search engine rankings?
MAKE GOLD STANDARD CREATIVE YOUR DIGITAL MARKETING AGENCY!